First Accusation:
Lizzo was hit by accusations of copying left and right. On October 17, singer Cece Peniston posted a side to side video of her own song, "Finally," and Lizzo's song, "Juice." Peniston's Instagram caption claimed that Lizzo is a "clear example of copyright infringement."
The use of the ad-lib "ya-ya-ee, ya-ya-ee" can be heard in both of the choruses. Collectively the use of the chorus in Lizzo's song adds up to around 40 seconds of copyrighted ad-lips.
As of Oct. 23, Lizzo has not responded to this allegation.
Second Accusation:
Producer Justin Raisen also accused her of stealing. He claimed the popular opening for "Truth Hurts" was taken from a song they co-wrote together earlier in the year titled "Healthy." Raisen then credited UK based singer Mina Lioness for the "I just did a DNA test turns out I'm 100% that bitch" lyric.

It was around February of 2018 when Mina Lioness made her own accusations on her twitter about the line being stolen.
According to Cosmopolitan, Mina Lioness tweeted, "Now everyone believes those were your words, when in fact they were mine. My creativity, my wit, and my comedy.' (Mina tweeted that she got the idea for the joke from Demi Lovato, who once tweeted about how her DNA test results said she was 1 percent African.)"
When Lizzo was confronted by Mina and the fans, she responded with the following:
Lizzo's Response:
On Oct. 23 Lizzo posted a thread of photos stating that Mina will be credited for "Truth Hurts." Lizzo then clarified that she has no plans to credit Justin Raisen for the song as he was not part of her writing process. She instead hit him with a lawsuit. According to NBC, the lawsuit states that Justin Raisen and Yves Rothman "expressly withdrew any claim to 'Truth Hurts,' in writing" last April, that Rothman never previously made any such claim, and that Lizzo requests that the court enter a judgement stating that the Raisens, Rothman and their publisher have no ownership rights or rights to any money earned in connection with "Truth Hurts," that it does not "infringe any copyright interest purportedly held by Defendant Rothman in any unreleased demo song," and awards Lizzo costs and reasonable attorney fees."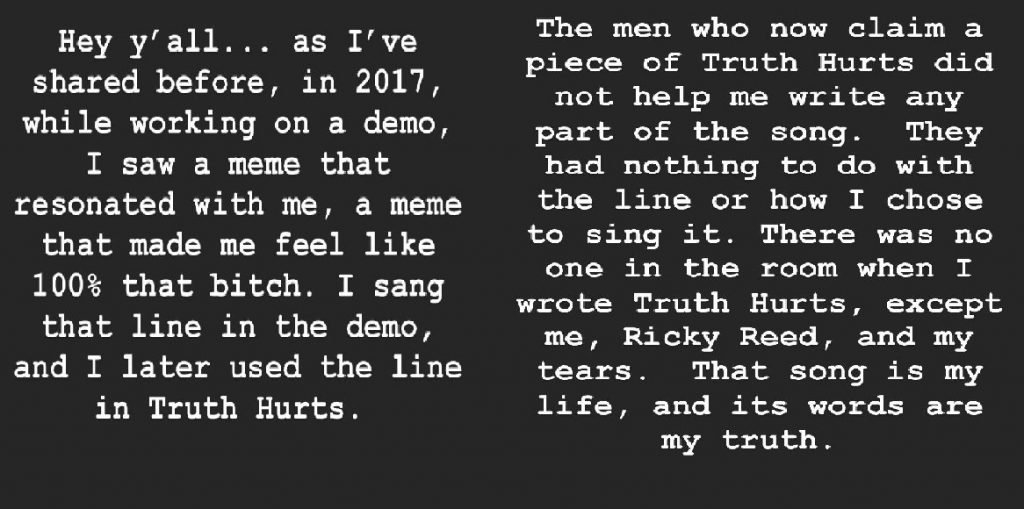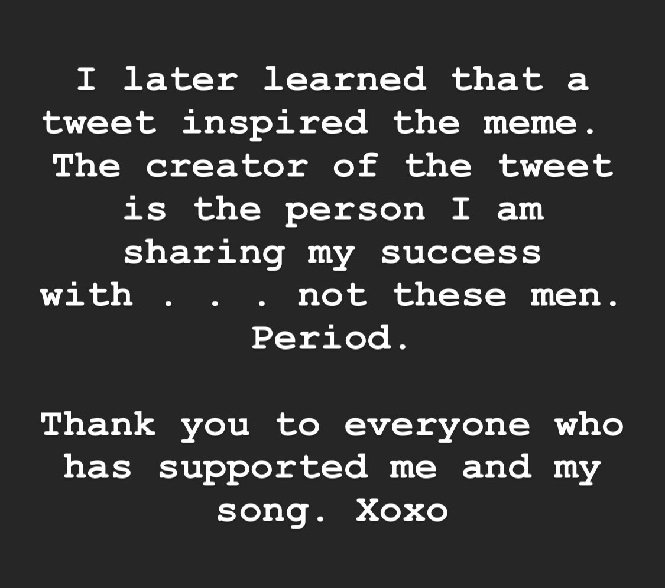 Not too soon after Lizzo posted her statement on both Instagram and Twitter, Mina Lioness took to Twitter to tweet out the following: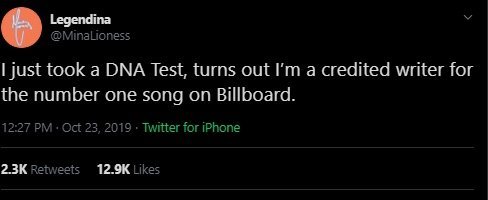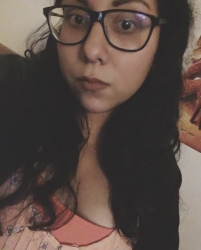 A recent graduate from RU. An avid reader and music enthusiast. I can be found at your local coffee shop or at the nearest hiking spot.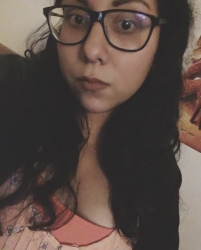 Latest posts by Darlene Leal (see all)